Sounding Off On The Challenge Of Audio At Tuacahn Center For The Arts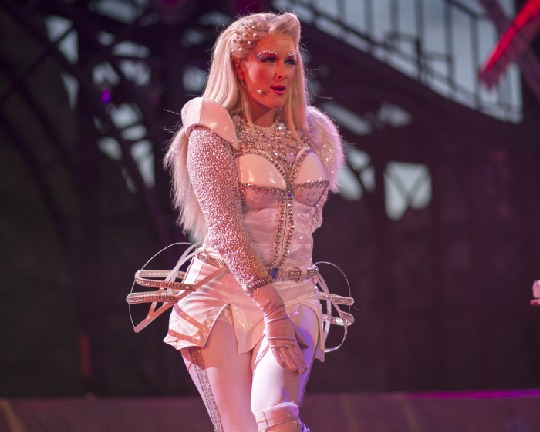 Optimizing the performance of wireless microphone technology

Ivins, UT… Tuacahn Center for the Arts lies nestled in the mouth of Padre Canyon below towering 1,500 foot red sandstone cliffs. The 42,000 square foot facility includes a 1,920 seat outdoor amphitheater, a 330 seat indoor theater, a dance studio, a black-box theater, a recital hall, a costume shop and scene shop, studios, classrooms, and a gift shop. Tuacahn presents professional large-scale musical theater productions as part of its annual 'Broadway in the Desert' series. With two concurrent 2013 productions—Disney's Mary Poppins and Andrew Lloyd Webber's Starlight Express—that will soon be joined by a third (Thoroughly Modern Millie), there are numerous challenges when it comes to delivering professional level sound reinforcement in an outdoor environment, and much of Tuacahn Center's success lies in its skillful deployment of its wireless microphone systems.
Kevin Warnick, Managing Director for Tuacahn Center for the Arts, oversees a myriad of responsibilities, including many technical aspects of the theatre's operation. Audio / sound reinforcement considerations are handled by Chris Powell, Head of Audio and Jason Jensen, the facility's Deck Audio Technician. Together, they run an extremely sophisticated audio effort that goes a long way toward ensuring a high level of speech intelligibility and music reproduction no matter where one sits—and it starts with a combination of miniature microphones from Menlo Park, CA-based Countryman Associates and wireless technology from Shure, Inc. of Niles, IL.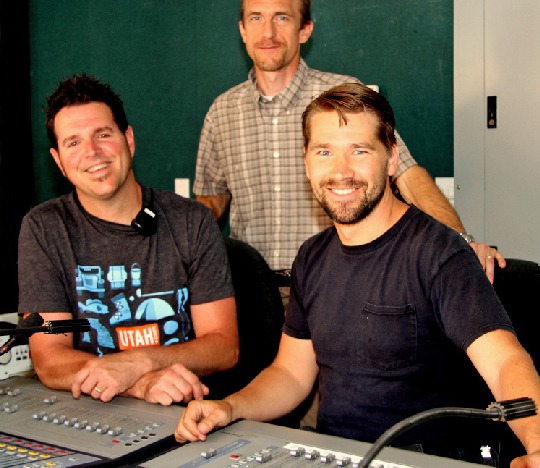 Currently, Mary Poppins is performed on Monday, Wednesday, and Friday while Starlight Express runs Tuesday, Thursday, and Saturday. The same cast performs both shows. With two shows and two sets, the cast of roughly 34 experiences a seemingly never-ending change of wardrobe. This alone can be a tremendous challenge with the constant outfitting of microphones and the accompanying wireless bodypack transmitters. Combine these issues with what can only be described as sweltering temperatures and one begins to gain an appreciation for the technical issues Warnick, Powell, and Jensen routinely wrestle with.
Microphone Selection
As the Deck Audio Technician, Jason Jensen is responsible for all microphones on stage. He prepares mics before a show, monitors and troubleshoots them throughout the show, and as necessary, performs maintenance. Presently, he uses forty Countryman B3 Omnidirectional Lavalier microphones along with six B6 Omnidirectional Lavalier mics. Unlike most lavalier deployments, Jensen actually uses the Countryman microphones not as lavaliers, but, instead, as earset microphones. He discussed his approach to miking the talent.
"Both the B3 and B6 mics are used with a custom, in-house created ear loop," Jensen explained, "so we're effectively using these microphones as earset models. These ear loops are custom measured and fitted to each actor. This is done to ensure precise microphone placement—with the capsule positioned in the best proximity to the actor's mouth. By keeping the mics optimally positioned, we feel we achieve the maximum performance from the microphones. We choose to create our own ear loops—as opposed to simply purchasing earset microphones to begin with—because we are able to outfit the talent with a microphone setup that is not only custom-tailored to each individual, but one that also takes wardrobe considerations into account."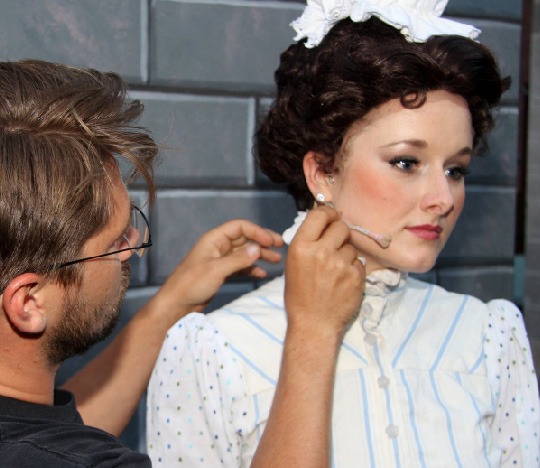 Tuacahn Center for the Arts has been using Countryman microphones since 1995. Jensen commented on the characteristics that make the Countryman microphones a good fit for Tuacahn's shows. "Over the years, I've worked with a variety of miniature microphone brands and I really prefer Countryman's models because they are the most durable mics I've ever worked with. We deal with a variety of extreme conditions here."
"As an example," he continued, "the other day the temperature on the stage surface registered 187 degrees Fahrenheit. You can appreciate what the talent must contend with when wearing their costumes. It's really hot and perspiration, which can wreak havoc with any microphone, is commonly encountered. The Countryman mics hold up really well to perspiration. We've yet to have a Countryman mic die on us as a result of perspiration. We actually keep a can of compressed air on site so we can regularly blow out the air screens if needed. Even then, the actual microphone elements have never encountered any issues."
Chris Powell, whose responsibilities include mixing at FOH, is equally impressed with the audio performance of the Countryman B3 and B6 mics. "Our number one issue for using the Countryman mics is the fact that these microphones sound terrific and their elements have a really high gain threshold before they clip. We've run into a variety of situations with other mics because the actor may one moment be whispering and the next moment be belting lines at the top of one's voice. Our Countryman mics handle the wide dynamic range exceptionally well. Further, our PA system is positioned roughly 40 feet over the performers' heads, so the most gain we can achieve with minimal EQ is better for us."
Speech intelligibility is a critical component of any good sound reinforcement system. Without this, the audience simply can't follow the story. Here too, Powell spoke highly of the Countryman microphones. "The B6 tends to be a little crisper in the vocal range, which is great for intelligibility. For this reason, while we outfit the entire cast with B3's, we double-mic the lead characters with the B6—and this is another reason why we use the custom ear loops, as they enable us to better position the mics on each performer."
Wireless Technology and Sound Reinforcement
Tuacahn Center for the Arts has an equally sizeable assortment of wireless capability working in tandem with their Countryman microphones. According to Powell, the theatre has forty channels of Shure wireless systems, the bulk of which is comprised of 32 channels of Shure UHF-R Series equipment plus another 8 channels of the older Shure UHF U4 receivers and transmitters. To ensure solid reception, the wireless system also utilizes two shark fin directional antennas—one upstage and another positioned over the house, with both of them providing coverage across the center stage area.
"We manage all our frequencies using Shure's Wireless Workbench software," Powell says. "The wireless receivers are located at stage left on the deck. We use an Avid / Digidesign Venue D-Show digital console at Tuacahn. The wireless receivers feed a stage rack that is dedicated to the wireless mics. This setup is located at stage left and, from there, the microphone signals run digitally to FOH. Our FOH mix position is located just over 100 feet from the stage. It is centered and elevated in a booth over the last six or seven audience rows. For each of our current two shows, we're running full tilt—right about 39 or 40 channels."
"We have a superb sound reinforcement system that is comprised of ten elements per side of DV-DOSC enclosures from L-ACOUSTICS®," Powell added. "The system was carefully modeled for maximum uniform dispersion. With the loudspeakers carefully tuned, the sound reaches everyone in the theatre at the same time. The L-ACOUSTICS loudspeaker system performs exceptionally well."
Because of its location, Tuacahn Center for the Arts is fortunate not to experience the type of 'rapidly vaporizing' sound that frequently occurs in outdoor settings. "We're very fortunate to be located in a canyon, so there's a natural bowl—with a reverberation time that can be as much as 8 seconds."
Audio Technology, Rapid Wardrobe Changes: Some Final Thoughts
In any theatrical environment, keeping the wireless microphone equipment operational while coping with constant wardrobe changes can be a vexing challenge—often resulting in torn cables and damaged transmitters. Life at Tuacahn is no different.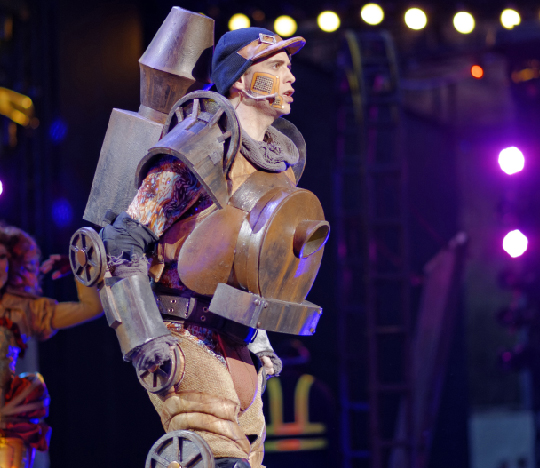 "Costume changes are a constant in this business," says Jensen. "One of the Hip Hoppers (boxcar characters in Starlight Express), for example, has three very rapid costume changes, with each one limited to about 30 seconds. By placing the transmitter into the hat, the entire wireless mic setup is right there on his head. The entire system can easily lift off and be placed back on in a matter of moments. Similarly, with Mary Poppins, we have her bodypack transmitter in her wig, so again, the entire system can be removed and replaced very quickly. These sorts of placements enable us to avoid the tugging of cables that routinely occur with rapid costume changes. Also… when I build these systems, I loop the connection to the transmitter and secure it with a rubber gasket to minimize the effects of tugging at the cable."
Reflecting on the summer season and the results of their audio investment, Warnick offered these final thoughts, "The Countryman mics and Shure wireless systems consistently provide us with clear, highly intelligible audio. We rely on the high quality of our audio systems for a clean and consistent sound which matches the professional standards of our productions. The Countryman mics, Shure wireless technology, Avid console, and L-ACOUSTICS loudspeaker system result in world-class audio performance that really delivers the goods."
To learn more about Tuacahn Center for the Arts, visit the theatre online at www.tuacahn.org.