Skyline College Theatrical Program Relies on Countryman Microphones for Solid Audio Performance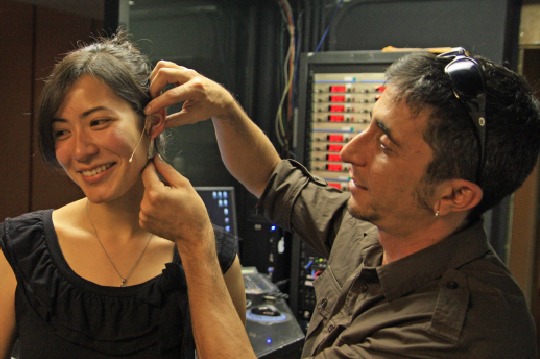 E6 Omni Earset Microphones deliver pristine audio quality and plenty of level
San Bruno, CA – October 2012… As an integral part of Skyline College's campus since its inception in 1969, the Skyline College Theater offers students a wealth of cultural opportunities. And with its top tier facilities, the college is a great place for those with an interest in the technical production aspects of theater to learn the ins and outs of the profession. The theater has a full rotation of events and one of its most recent offerings was the production of the Broadway hit musical Cabaret. Microphones frequently assume an important role in contemporary theater, and to ensure the best possible audio performance, Skyline College relies on its arsenal of E6 Omni Earset microphones from Menlo Park, CA-based Countryman Associates.
With a background that encompasses both production house and touring experience, Alan Ceccarelli is Skyline College Theater's theater and technical production manager. In addition to these responsibilities, he also serves as the school's Drama 680 Instructor. Over the past two years, Ceccarelli has acquired twenty Countryman E6 Omni Earset Microphones and they are clearly his 'go-to' mic solution for sound reinforcement purposes.
"Skyline College Theatre features a traditional proscenium stage with seating for 530 people," Ceccarelli explained. "The stage is 40 feet deep with a 40 foot proscenium and there's an orchestra pit. It's a good sized room, so sound reinforcement is frequently required. I find the Countryman E6 is an ideal microphone for our applications. For Cabaret, we used all twenty E6's on the talent and they served us very well."
"I especially appreciate the ease of placement the E6 provides," Ceccarelli continued. "The mic fits very well, is comfortable, and as a result, enables the students to focus on their performance without distraction. Occasionally, we'll use a bit of medical tape to keep the boom close to the corner of the performer's mouth, but in most cases, simply placing the mic over the ear works well with no tape. During my career, I've found earset microphones ultimately yield the best results in a teaching environment, as they are generally easier to handle than an omni lavaliere, which might end up being fed through a wig, taped to one's forehead, and so forth."
Ceccarelli is equally enthusiastic about the E6's audio performance. "The Countryman E6 sounds fantastic," he said. "The mic has excellent rejection of wind and ambient noise and most significantly, it offers high gain before feedback. As a junior college and a teaching theater, there are students behind the sound board as well as those on stage. Being a hi-gain mic that remains close to the mouth, the Countryman E6 eliminates a wide range of feedback issues that can readily occur with less capable microphones—enabling both performers and the supporting technical staff to achieve the best possible results."
Quality customer and technical support services are an important consideration for any group of performers. On that note, Ceccarelli rates Countryman Associates' support among the best he's encountered. "They've been great," he says. "The company is very responsive and, on several occasions, they have taken the time to advise me how to best handle the microphones. It's been a very positive experience."
As he prepared for his next class, Ceccarelli offered a few final comments, "We typically use our E6's with Sennheiser ew 300 series wireless systems and, together, they provide a terrific microphone solution. These mics deliver great quality audio, high gain before feedback, and a very comfortable, secure fit. We couldn't be happier."
About Skyline College
Skyline College is an accredited, comprehensive California community college serving more than 10,000 students offering over 80 Associate Degree and Certificate programs. Located on a 111-acre campus overlooking the Pacific Ocean, Skyline College offers world-class educational opportunities to residents from North San Mateo County and beyond since 1969. Part of the San Mateo Community College District, Skyline College strives to inspire a global and diverse community of learners to achieve intellectual, cultural, social, economic and personal fulfillment. To learn more about Skyline College and the Skyline College Theater, visit www.skylinecollege.edu and www.skylinecollege.edu/theatre.