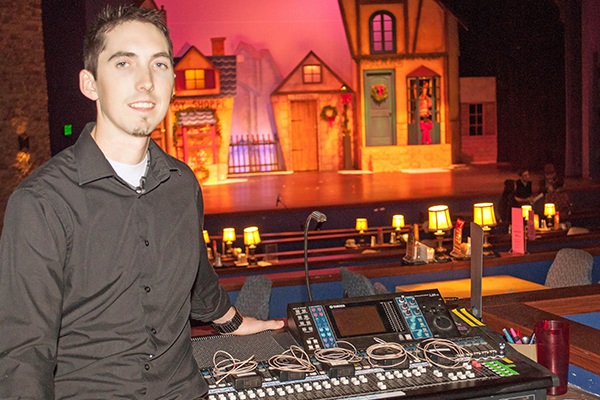 Excellent audio performance and rugged reliability are key attributes
Johnstown, CO – December 2013… Now celebrating its 6th anniversary season, the Candlelight Dinner Playhouse is Colorado's largest, most elegant, and most spacious professional dinner theater. From award-winning Broadway productions to special concert events by national celebrity artists, patrons enjoy exceptional dining and shows presented in a plush Broadway-sized proscenium theater. For both theatrical and concert style performances, sound reinforcement is a crucial element and, to ensure consistent audio quality and a high level of speech intelligibility, the playhouse employs numerous B3 Omnidirectional Lavalier microphones from Menlo Park, CA-based Countryman Associates.
Neal Johnson is the Sound Designer / Engineer at the Candlelight Dinner Playhouse. In addition to designing the five musical theater shows presented throughout the course of each year, he is also in charge of all the special events that come through the theater, which range from national touring acts to local performers as well as a broad assortment of special events. Regardless of the nature of the occasion, Johnson is the technician and, frequently, mix engineer for all programs. He currently oversees an arsenal of eighteen Countryman B3 microphones that he uses regularly. He discussed the nature of his production challenges and his reasons for deploying Countryman microphones.
"Whether it's a theatrical presentation or a concert-style performance for artists such as Larry Gatlin and the Gatlin Brothers, Debby Boone, or Maureen McGovern and Lee Greenwood, we keep a busy schedule," says Johnson. "I currently have eighteen Countryman B3s and, while I use all three of the available caps for the microphones, I find I get excellent results with the +4 dB 'bright' model for a wide range of applications. I do, however, have one actor that I always outfit with the +8 dB 'very bright' cap due the timbre of his voice. Microphone placement varies considerably—depending upon the nature of the event and the artist—but for theatrical talent, I've placed these mics both on the actors' foreheads and cheeks and have obtained excellent results."
When queried about those B3 attributes that he finds most appealing, Johnson offered the following, "The Countryman B3s yield excellent results and are remarkably consistent in their sound quality. Because of this, I know exactly what to do to make them sound great, and that is generally very little. They deliver very clear, natural sound and they can take a great amount of sound pressure. This is not the case with other competing lavalier microphones I've experimented with."
"I've also been very impressed with the B3's ruggedness," Johnson continued. "Doing between four and seven shows a week, the mics are extremely durable considering all that I put them through. At the end of the day, that translates to great value. They really deliver excellent bang for the buck and I've never had to contact Countryman for service or support. For my types of applications, the B3s have become my plug and play, go to mics."
Johnson's experience with the Countryman microphones goes back several years at this point. "My first design at the Candlelight was Richard Rodgers' and Oscar Hammerstein's The King and I," Johnson recalls. "I walked into an already established theater and, in turn, had to use whatever equipment they had. Their current lavalier selection needed help. I got the approval to get some new mics for use on the show, so I bought a pair of B3s and never turned back. They were so easy to implement and make sound great, I was sold. Since then, I have phased out all other mics and only use Countryman B3s. The B3s do everything I ask of them. I mate them with Shure ULX wireless systems and, together, they make a great setup."
Before redirecting his attention to the theater's shows, Johnson offered this final assessment of his Countryman experience. "Mics are such an important part of the entertainment business and, especially so in the musical theater world, where it is very important to have a product that performs consistently. At the Candlelight, it is imperative that every word is heard all the time. The Countryman B3s are a powerful and durable product that provides the clarity and consistency I need for our shows. My inventory of lavalier microphones is now exclusively Countryman B3s."
For more information about the Candlelight Dinner Playhouse, visit the theater's website at www.coloradocandlelight.com