Countryman Microphones Crucial to Production Sound Mixer Johnny Kubelka's Location Sound Success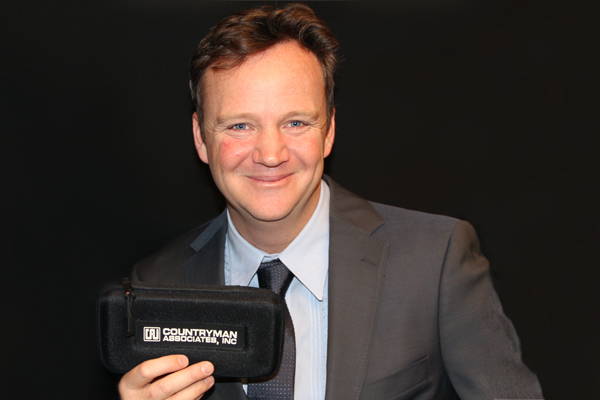 Natural sound quality and low noise are key attributes of B3 and B6 Omnidirectional Lavalier Microphones
Los Angeles, CA… Coping with a myriad of variables and unexpected production challenges is a routine part of the job for any location sound engineer. Whether it's compensating for unexpected ambient noise, dealing with difficult wardrobe requirements, or one of a thousand other variables, one's choice of microphones is a key consideration when it comes to mission critical audio for TV and film work. That's precisely why LA-based production sound mixer Johnny Kubelka relies on his arsenal of B3 and B6 Omnidirectional Lavalier microphones from Menlo Park, CA-based Countryman Associates.
As the owner of JNO Sound, Kubelka is the Production Sound Mixer for The Horseman's Apprentice on RFD TV, which follows the training of horse whisperer and show host Pat Parelli. He also recently completed work on the comedy film Oliver Stoned, which is currently in production. Further, Kubelka is widely known as a microphone aficionado who has numerous video product reviews posted online. In the two-plus years that he's been working with his B3 and B6 microphones, he's become a big fan of Countryman products.
"I currently own two B3s and two B6s," Kubelka states, "which I use with my Lectrosonics and Shure wireless systems. The natural sound quality of these microphones is really quite extraordinary. I'm particularly impressed with how clean sounding and quiet they are. There's never any muffled sound from the cables and they are both extremely small—making them a great choice when the mic needs to remain out of sight. Equally important, since the mics are moisture resistant, they're an ideal choice for use under the lights, as they don't get affected by perspiration, which can be a problem for other microphones. As far as deciding which mic to use on the talent: I'll frequently try both to determine the best choice in any given situation."
"If discreet and out-of-sight are key production requirements of the shoot, I'll typically use the B6," Kubelka added. "This mic is really small—making it extremely well suited for difficult wardrobe considerations. Noisy costumes can be a real challenge in terms of capturing sound. Since the B6 features a micro thin cable, I've had great results weaving it through the talent's hair and placing the mic in the hairline at the edge of the forehead. The B6 has exceptionally low handling noise and is very rugged for something this small. I never cease to be impressed with its capabilities."
It's common knowledge in the production sound business that "you're only as good as your last project." For this reason, product reliability and quality customer support services are crucial considerations. Here, too, Kubelka considers Countryman Associates to be best-in-class. "Countryman's customer service delivers real WOW factor," he says. "Everyone is very professional and they treat their customers like professionals. There is a genuine 'we want you to use our products' attitude and they are very responsive and supportive. If you have a question, you'll get the information you need without delay—further ensuring you'll be well prepared for any upcoming project. I only wish that other companies took the same level of pride in their products."
Before turning his attention to an upcoming project, Kubelka offered these parting thoughts on his experience with Countryman Associates, "When you find the right tool for the job, you look forward to using it. That's exactly how I feel about my Countryman microphones. I find myself enjoying the sound I'm capturing as opposed to wrestling with the situation in order to merely make it sound acceptable. Countryman mics make my work shine."
To learn more about the services of Johnny Kubelka, visit him online at www.jnosound.com. For a sampling of his online product reviews, go to http://www.youtube.com/watch?v=1MzBQqiHUX0 or http://www.youtube.com/watch?v=zi_PLueFw6A.