Features
The lowest profile headset microphone in the world, combining pure sound quality and water-resistance with a comfortable, easily adjustable headframe.
Description
The H6 Headset is the lowest profile headset microphone in the world, combining the transparent sound quality of the E6 Earset with a comfortable, lightweight, and easily adjustable headframe. Available in omnidirectional and pattern-adjustable directional versions, the H6 Headset is perfect for public speaking and vocal performance. The H6 features a sealed connector with exceptional moisture resistance, a slim and nearly indestructible cable, and protective caps to adjust the frequency response (omni) or pattern (directional).
What's Included?
H6 Headset Microphone
H6 Headset Cable (optional)
Black and White Single Tie Cable Clips
Omnidirectional Protective Caps (+0, +4, and +8 included with Omnidirectional Headsets)
Directional Protective Caps (Hypercardioid and Cardioid included with Directional Earsets)
Windscreen
Carrying Case
Brand/Model
Brand is the manufacturer of the wireless transmitter or digital recorder which will be used with the microphone.

Model is the model number of the transmitter pack or digital recorder. Choose "Hardwired" for a phantom powered XLR3 connection.
Pattern
The H6 Omnidirectional Headset rejects unwanted sound and feedback better than a lavalier almost any way you wear it, so it's very user-friendly for new and experienced users alike. The omnidirectional H6 is the right choice for most applications. For situations where there are loud monitors, extreme feedback or environmental noise, choose the directional H6 Directional Headset (marked with a green band). The directional H6 Headset has either a cardioid or hypercardioid pick up pattern, depending on which of the two included protective caps is placed on the microphone. Directional microphones require more careful placement and are subject to more handling and wind noise.
Sensitivity
Making a microphone more sensitive to catch soft sounds means it will overload sooner for loud sounds. Because sound pressure levels vary between individuals and applications, we provide three sensitivities for the H6:
The highest gain (W5, no colored band) is for general speaking, such as presentations or sermons, and is the most popular option.
The medium gain (W6, blue band) is for very loud speaking, such as in theater, and most vocal
performances.
In rare cases, the most powerful vocals require the highest overload (W7, purple band)
Color
Countryman products come in a variety of colors to blend in with their surroundings:
Light beige works well for light and pink skin tones.
Tan works very well for Caucasian skin tones as well as olive complexions.
Cocoa is the ideal choice for very light brown to chocolate skin tones.
Choose Black is the most popular choice for hiding against clothes. Use it for deep brown skin, or on other skin tones when you want the mic to be visible.
When in doubt about a skin tone match, choose the darker option. That's because a mic that's too light can resemble a scar or blemish, while a mic that's slightly darker than the background resembles a shadow and draws less attention.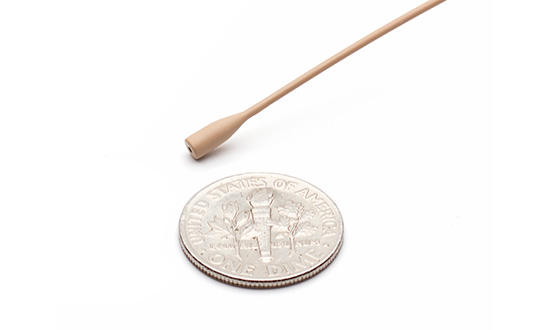 Nearly invisible
With a diameter of only 0.1" (2.5 mm)—the size of a No. 2 pencil lead—the mic capsule virtually disappears when worn.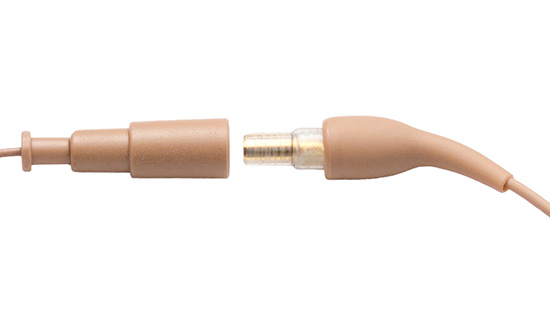 Sweat-Resistant Connector
The mic detaches from the cable using a new connector with a tight seal against moisture (e.g., sweat).
Ready for the Extreme
The H6 is ready for your demanding environments.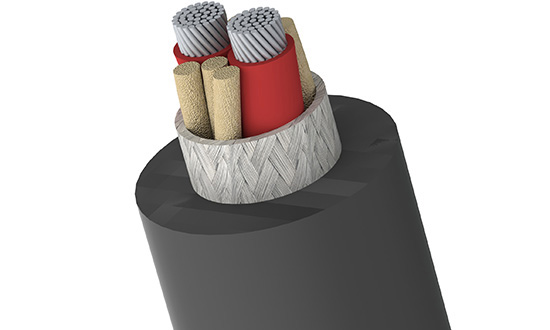 Extra Rugged Cable
The 1.2 mm diameter cable uses Aramid strength members and engineered alloys for extreme tensile and flex strength.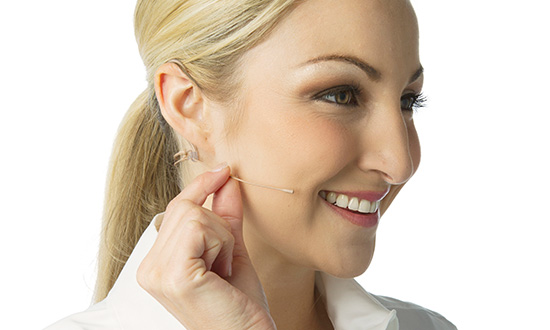 Easily Adjustable
The headframe can be adjusted to fit different head sizes and the mic boom slides to get the perfect fit.
"The sound was amazing and the incredibly small microphones also appealed to the TV people, as they were almost invisible. It was fantastic to get such a good result, even when the singers were standing in front of the large orchestra, performing Queen songs with just the head-worn mikes, the sound was amazing."
– Lars Wern, Front of House – Orphei Drängar Caprice Concert
Frequency Response:

Omnidirectional: 20 Hz to 20 kHz

Directional: 30 Hz to 15 kHz

Operating Current:
500 uA
Operating Voltage:
1 to 2 Volts
Power Supply Voltage:

+3V with 2.7 kOhm load

+5V with 6.8 kOhm load

+9V with 15 kOhm load

Weight:
0.07 oz (2 g)
Sensitivity:

Omnidirectional W5 (no band): 7.0 mV/Pascal

Omnidirectional W6 (blue band): 2.0 mV/Pascal

Omnidirectional W7 (purple band): 0.7 mV/Pascal

Directional W5 (no band): 6.0 mV/Pascal

Directional W6 (blue band): 1.9 mV/Pascal

Directional W7 (purple band): 0.6 mV/Pascal

Equivalent Acoustic Noise:

W5: 24 dBA

W6: 29 dBA

W7: 39 dBA

Overload Sound Level:

Omnidirectional W5: 120 dB SPL

Omnidirectional W6: 130 dBA SPL

Omnidirectional W7: 140 dBA SPL

Directional W5: 125 dBA SPL

Directional W6: 135 dBA SPL

Directional W7: 145 dBA SPL

Cable Length:

5 Feet