Markham Theatre Looks to Countryman for High Quality Audio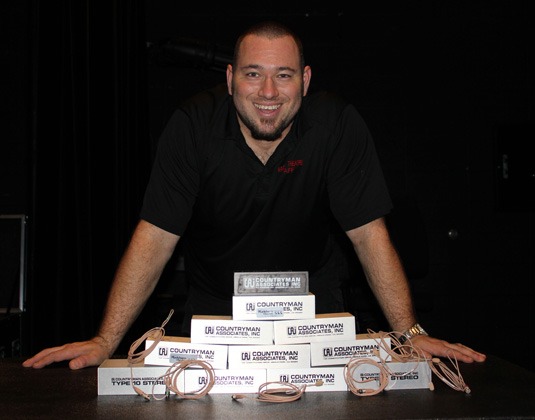 Microphones and Direct Boxes integral to performances

Markham, Ontario, Canada – January 2012… Located on the outskirts of greater Toronto, the Markham Theatre for Performing Arts is one of Canada's premier theatre houses. With over 300 live performances each year, including live theatre, concerts, comedy shows, and family entertainment providing an ever-changing array of performing arts, the theatre presents a performance calendar that showcases the cultural diversity of the area. As with any performing arts facility, the success of any performance directly correlates to the quality of audio—that's why the Markham Theatre relies on its arsenal of subminiature microphones and direct boxes from Menlo Park, CA-based Countryman Associates.
Chris MacBride has worked at the Markham Theatre for Performing Arts since 1996 and has served as the Technical Supervisor for the past 6 years. During his career, he has worked in many areas of the business—from theatre to musicals to corporate industrial special events. At the Markham Theatre, he is responsible for specifying all technical equipment and he recently designed and oversaw the installation of a new audio system by RP Dynamics Inc. As part of this, there is an extensive collection of Countryman products.
"Presently, our Countryman microphone roster includes sixteen Countryman E6 Directional Earset mics, ten E2 Earset models, two Isomax 2 All-Purpose mics, two Isomax 4RF Podium mics, and four B3 Omnidirectional Round Lavalier mics," MacBride reports. "We also use the company's direct (DI) boxes for bringing instruments into the mixing console. We have one Type 85 DI, eight Type 10 DIs, and two of the Type 10S Stereo DI units. Some of this equipment is new and was placed into service this past July while other equipment dates back a good fourteen years. When you consider the relatively short life span of so much electronic equipment these days, the fact that we've had some of our Countryman equipment for so many years speaks volumes about the company's quality and reliability."
"Our theatre seats 530 people," he continued, "and we have a full-time staff of eleven people plus another forty-five part time employees. With better than 300 performances each year, we have a really busy schedule, so audio quality, versatility, and reliability are important considerations. I love the E6 for its incredibly high gain before feedback, as it enables us to readily achieve the audio levels we need. Equally important, this mic is so easy to fit comfortably on the performer's ear, which means the artist can perform without distractions. I also love the fact that the E6 has a removable cable, which makes it really versatile. By using cables with different connectors, the E6 can be interfaced with a variety of wireless systems—enabling the mic to be used for all types of events."
MacBride is equally enthusiastic about the Countryman E2, which he considers an excellent choice for placement on child actors. "I find the E2 to be a great choice for miking child actors," he said. "With many children, the boom on the E6 may be a bit too long. However, the E2, by contrast, has a shorter boom and works really well. Once I tried the E2, the long boom issue was resolved. It sounds just as great as the E6 and I get amazing sound quality from the kids. There's plenty of gain and very little EQ is required."
When musical instruments need to go through the audio console, the Countryman Type 10 and Type 10S direct boxes are MacBride's go-to audio solution. "The Type 10 and Type 10S are the finest DI's I have ever worked with," MacBride said. "When I first plugged a bass guitar into one, I was shocked by the tonal quality I heard. That bass sounded exactly as the instrument should sound."
Before turning his attention to the business of the day, MacBride summarized his experience with Countryman products, "I love every Countryman product I've had the chance to use. The E6, E2, and Type 10 DI's are my absolute favorites. These products are on any rider that I send out now, and I don't want any other DI than a Type 10 from now on. I've had nothing short of terrific experiences with Countryman and I look forward to many more years of success with their products. I can't wait to see what they come out with next."
For additional information about the Markham Theatre for Performing Arts, go to www.markhamtheatre.ca.