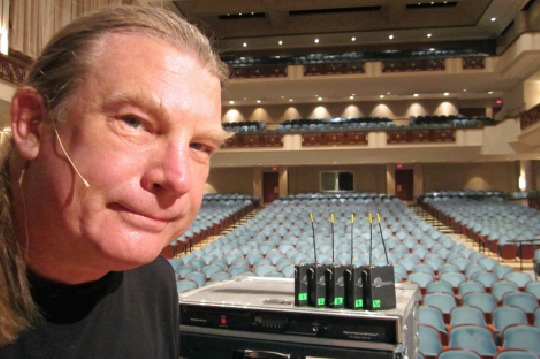 Earset and lavalier microphones plus direct boxes assume prominent roles in varied productions

Jacksonville, FL – April 2013… Located in the Times-Union Performing Arts Center, Jacoby Hall is home to the Jacksonville Symphony Orchestra. As the area's most prominent home to the performing arts, Jacoby Hall also serves as a venue for a wide range of shows and other performances—many of which utilize the services of the Jacksonville Symphony Orchestra. From Frank Oden's Cowboy Jam, which humorously depicts life in the 'Old West' to Peter Shaffer's Tony award-winning play Amadeus, microphones and direct (DI) boxes from Menlo Park, CA-based Countryman Associates play a pivotal role in many such productions.
When he's not touring with the Zac Brown Band as their monitor engineer, Jacksonville-based audio technician Mark Frink serves as the RF Engineer and A2 for the Jacksonville Symphony Orchestra—a responsibility that places him right at the heart of all things audio-related taking place at Jacoby Hall. Recently, Frink utilized Countryman's E6 Omni Earset and B2D Directional Lavalier microphones on several shows, along with the company's Type 10 and Type 85 DI's. He discussed his deployment of the Countryman equipment.
"We use Countryman's medium sensitivity (blue band – W6) version of the E6i," says Frink, "which is a very flexible version designed to be 'remolded' for each different user's ear and head geometry. The E6i's medium sensitivity works well for the softer spoken dialog of actors as well as the more powerful voices of vocalists accompanying the symphony. For Amadeus, we had eight actors outfitted with these microphones and for a show called Broadway's Leading Men, which starred Matt Branic, Ted Keegan, Hayden Tee, and Kathy Voytko, we used four of these microphones. Similarly, for cowboy poet Frank Oden's show Cowboy Jam, the Countryman E6i was the perfect microphone choice."
Frink discussed those attributes that make the Countryman E6i ideal for so many applications. "The Jacksonville Symphony and its audience like the illusion of no microphones," Frink explained. "For Amadeus, the symphony was not reinforced—just the actors voices. For the other two shows, the orchestra was reinforced in typical pops fashion, with spot mics for most sections of the orchestra. The E6i's high isolation and gain before feedback is a huge benefit, as the accompanying performers are wearing them downstage in a live concert hall. The sound quality—particularly when used in combination with Lectrosonics wireless systems—is especially important to the symphony and its patrons."
The conductor for the Jacksonville Symphony Orchestra also wears a Countryman microphone when he takes to the podium—in this case, a B2D Directional Lavalier. "While many conductors actually prefer using a handheld mic to make introductions and speak to the audience between numbers," Frink reports, "maestro Everly prefers the intimacy created by the illusion of speaking without a handheld mic. The Countryman B2D enables placement on the speaker's chest while still providing natural sound quality and high gain before feedback. This microphone is so small, it becomes invisible when placed on a tuxedo."
In addition to the Countryman microphones, Frink also uses Countryman Type 10 and Type 85 DI's as a regular component on such projects, "For the Broadway show, we employed Countryman Type 85 DI's both on upright and electric bass. We use the newer Type 10 on the Kurzweil electronic keyboard that is used to imitate celeste, harpsichord, and organ, and occasionally as a preamp for a Barcus-Berry CS-4000 pickup on either the Steinway D grand or the harp. The Type 85 provides a warm natural sound on both types of basses, as well as other acoustic instrument pick-ups, and the Type 10 provides an open, transparent sound that is really well suited to electronic keyboards."
Reflecting on the recent shows and his success with the various Countryman products, Frink offered these final comments, "As a wireless rental vendor, I'm glad that Countryman's E6i has established itself as an industry standard. It satisfies a wide range of wireless applications with a single product. I use a variety of beltpack transmitters, so with the E6i's interchangeable cords, the different types of TA (mini-XLR) connectors can easily be swapped out—and that's a huge benefit. With a comprehensive range of products and a high level of individualized customer service, there's really no incentive to look beyond Countryman."
To learn more about the services of Mark Frink, contact him via [email protected]