DASOTA's 'Extravaganza' Is Exquisite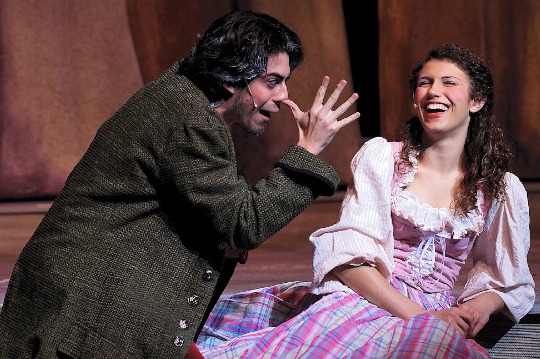 Countryman mics, Sennheiser wireless, and Yamaha console technology are keys to success of major arts endeavor

Jacksonville, FL… The Douglas Anderson School of the Arts (commonly known as 'DA' or 'DASOTA') is a highly regarded Duval County Public Schools magnet high school in the San Marco neighborhood of Jacksonville. Specializing in performing, visual, and language arts, DASOTA has accomplished much over the years, including becoming a National Blue Ribbon School of Excellence and receiving awards from the United States Department of Education, the International Network of Schools for the Advancement of Arts Education, and the National Academy of Recording Arts and Sciences. Each year, DASOTA holds its Extravaganza, designed to showcase the best the school has to offer and to give its students an opportunity to experience professional quality production.
Extravaganza is very much a reflection of the creative energy that flows at DASOTA. Held at the Moran Theater, Times Union Center in downtown Jacksonville on February 16th, this year's Extravaganza was a sellout, as it is every year. Over 50 Technical Theater students ran the show with oversight from a professional crew. A cast of 350 students performed various styles from all of the arts disciplines, including Dance (ballet, modern, tap), Musical Theater, Vocal Ensembles and Choirs, Wind Symphony, Orchestra, Jazz Band, Piano, Guitar Ensemble, Cinematic Arts, Creative Writing, and Visual Arts. The show's production was first-rate—as was the equipment and the talented crew who guided the use of the technology.
Jacksonville-based live sound engineer Rick Painter is the audio engineer tasked with overseeing a myriad of artistic endeavors at DASOTA. With an audio production background that dates back to his elementary school days, Painter works as an independent contractor for the school and has been closely involved engineering live sound for their various performances, including vocal concerts, musicals, and jazz band concerts (in addition to Extravaganza) for the past 25 years. He discussed the logistics of pulling such a huge undertaking together.
"The Moran Theater's total seating capacity is 2,979," Painter reports. "The stage is 48 feet deep and 96 feet wide. The theater's proscenium is 32 feet high and 54 feet wide. For Extravaganza, most acts were on the stage, though some were in front of the curtain to enable other acts to be preset behind the curtain. There is a hydraulic orchestra pit comprised of two sections and this went up and down throughout the show. Some of the acts or instrumental accompaniment were preset on the pit—brought up to stage level and taken back down to strike."
As one would expect, microphones played an integral role in this year's show. The bulk of these were of the wireless variety using a combination of Countryman B3 Omnidirectional Lavalier microphones in tandem with Sennheiser wireless systems.
"This year's Extravaganza included four musical theater pieces that were spread out during the show," Painter explained, "and all of these performers were outfitted with Countryman mics. We used 40 Countryman B3's, which were connected to Sennheiser G2 / G3 series 100 bodypacks and Sennheiser EM550 receivers." When queried about his preference for Countryman mics, Painter responded, "It all begins with sound quality. I have tried every brand, but when I bring a Countryman up in the mix, it sounds really good—natural, warm, and clear."
In addition to Countryman's exceptional sound quality, Painter was equally complimentary of the B3's durability and high gain before feedback characteristics. "I have found Countryman to be rugged, durable, and resistant to perspiration," he said. "One of the theatrical performances used 32 Countryman B3's. Because of the high number of performers who used these mics, they had to be swapped between acts. This is where Countryman's excellent durability made all the difference. Because of the fast wardrobe changes, there was no time for the B3's to be handled delicately by the sound crew and they really stood up to the test. For each performer, the B3 was run up over the ear and taped to the cheek—providing excellent gain with zero feedback and a great high fidelity sound. The Countryman mics and Sennheiser wireless systems were a terrific combination. Their small form factors made hiding the equipment on the talent easy."
In addition to the wireless lavaliere microphones, numerous handheld wireless microphones were also deployed for the show. "We used 16 handheld wireless Sennheiser 835 microphones on stage," Painter notes. "These microphones were placed on microphone stands and were used for choirs, the orchestra, piano, tap dance, and creative writing segments. These same microphones were also handheld for one 16-member jazz vocal ensemble. There were also 12 handheld wireless Shure SM86 microphones in the orchestra pit. Most of the time, these were stand-mounted for the musical instruments."
For some cabled electronic instruments, Painter used four Countryman Type 85 Direct Boxes. "The Type 85's were used in the pit to take direct outs from the bass guitar and keyboards into the console at FOH," he said. "The Countryman Type 85 is my favorite DI—it delivers crystal clear sound and is built like a tank. These units make the process of balancing the signal a snap."
With a cast of 350 and a multitude of stage changes throughout the show, mixing DASOTA's Extravaganza was an involved task. The FOH mix position was located 70 feet from the stage in the center of the theater. While Painter used analog mixing consoles in earlier years, he employed a Yamaha M7CL48 48-channel digital console as the primary mix station for this year's show so as to take advantage of snapshot automation, integrated signal processing, and a host of additional features.
"It's hard to imagine I mixed this show for many years on analog consoles," Painter said with a grin. "The M7CL's flexibility, combined with the ability to recall preset cues instantly, was a huge advantage on this year's show. For a production of this magnitude, it's not uncommon for the same input channel and microphone to be assigned to a kick drum in one act, a violin in the next act, and a choir in yet another act. By taking snapshots, I was able to instantly recall all the various settings for each performance group and have the ideal mix, EQ, basic hall and plate reverbs, delay and soft-knee compression on the mic inputs, and other DSP settings for each performance."
In addition to the M7CL console, a Yamaha 01V digital mixer was used for sub mixing. A total of 64 inputs were used.
The house sound system for this year's Extravaganza consisted of a combination of JBL Professional and Electro-Voice loudspeaker systems. The sound reinforcement system consisted of three loudspeaker clusters arranged in a left – center – right configuration. For each loudspeaker cluster, high frequency reproduction was addressed via JBL 2446 H drivers with JBL horns while midrange frequencies were handled by Electro-Voice TL 12 enclosures. JBL AS1028 sub bass enclosures provided low frequency support. In an effort to keep the stage clear so as to better facilitate all the various setups and equipment moves between acts, stage monitoring was handled by upstage and down stage JBL side fills.
With this year's Extravaganza in the rear view mirror, Painter reflected on yet another incredibly successful showing, "This year's show was amazing, especially when you remind yourself this was high school talent on the stage. For this age group, their skill and on-stage presence was mind-boggling! As in past years, we couldn't have done this show without our Countryman mics and direct boxes. These products ensured that the students' incredible performances were heard—with natural, warm, and clear sound quality and the reliability we could count on. Countryman will always be a vital part of the Douglas Anderson School of the Arts' Extravaganza!"
To learn more about the Douglas Anderson School of the Arts, visit them online at www.da-arts.org.