Countryman Mics a Favorite with the Houston Family Arts Center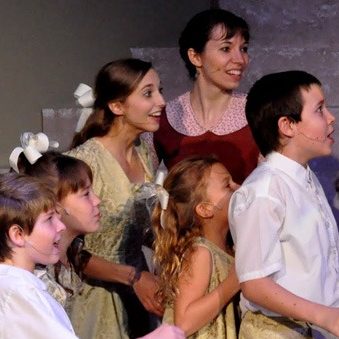 Countryman Mics a Favorite with the Houston Family Arts Center

Robust performance and versatile designs are ingredients for success

Cypress, TX – January 2012… Serving the NW suburbs of Houston, the Houston Family Arts Center (HFAC) is a non-profit, family friendly community theatre and actors academy that was founded in 2006. With a diverse schedule designed to appeal to a wide range of audiences, HFAC is currently running the drama A Lesson Before Dying, an adaptation of Ernest J. Gaines' novel, which looks at the status of African Americans in the South after World War II and before the Civil Rights Movement. Be it a musical, a children's show, or drama, the ability to properly project the voices of the actors and actresses is of paramount concern. To ensure the best possible vocal articulation for the talent, the theatre group relies exclusively on earset and lavaliere microphones from Menlo Park, CA-based Countryman Associates.
Tracy Clayton, Technical Director for the Houston Family Arts Center, is a former radio broadcast engineer who joined HFAC in 2007. Clayton is responsible for all aspects of audio and sound reinforcement at the theatre. Since his initial experience with the theatre's E6 Omni Earset Microphones (which were purchased in 2006), he has purchased a sizeable Countryman arsenal.
"I've been very impressed with Countryman mics" says Clayton. In the six years I've been here, we've expanded our microphone collection to include thirteen E6 microphones, eight B3 models, and four E2 Earsets. With each model, we have a variety of colors to match the skin tones of the various performers and we've also purchased the mics in various sensitivities. This way, we can readily outfit the talent with the best possible microphone choice—depending upon whether they'll be singing or speaking."
Clayton was quick to point out the benefit of having both Countryman E6 and E2 microphones. "We frequently have a lot of child actors," he explained. "With many children, the boom on the E6 may be a bit long. The E2, by contrast, has a shorter boom and, as a result, works really well on their smaller faces. The audio performance is first rate on both models, so by having the added flexibility of using the E2 with its shorter boom, we can readily accommodate every performer. I find our actors love the Countryman E6 and E2 microphones. They're very comfortable wearing them, they like the way the mics fit on their faces, and they remain in place very well, so they're never distracting."
As for their Countryman B3 Omni Round Lavaliere models, Clayton was equally complimentary. "The B3's are incredibly versatile," says Clayton. "We can hide them in the hair, place them on clothing, or even tape them to one's face. These mics are tremendously flexible and they sound terrific. They can be placed just about anywhere—no matter how involved the situation with wardrobe may be. We use all our Countryman mics with Shure ULX-P wireless systems. We have a total of twenty channels and the combination of Countryman microphones and Shure wireless couldn't be better."
Both the E6 and E2 microphones have another feature that Clayton finds particularly appealing, "I love the fact that, on the earset products, the cables are replaceable. When you consider how much these microphones have to endure—between rapid costume changes and on-stage action—you can appreciate why the cables get yanked rather hard from time to time. As a result, they occasionally fail. That's just a fact of life. With the Countryman E6 and E2, we can quickly and easily replace the cable—without the headache of having to replace the microphone. On rare occasions, we've actually exchanged cables in the middle of a show. Having replaceable cables is incredibly useful. It's shows smart design and a true understanding on the part of the manufacturer as to how these products are used."
As he prepared for another show, Clayton offered this parting thought, "Countryman is the microphone line we rely on—year after year," he says. "We've had opportunities to use other manufacturer's microphones, but in all honesty, our experience with Countryman has been so positive, there is simply no incentive to look elsewhere."
To learn more about the Houston Family Arts Center, visit them online at www.houstonfac.com.