Countryman Microphones Add Vibrancy to Delgado Community College's Presentation of "Spring Awakening"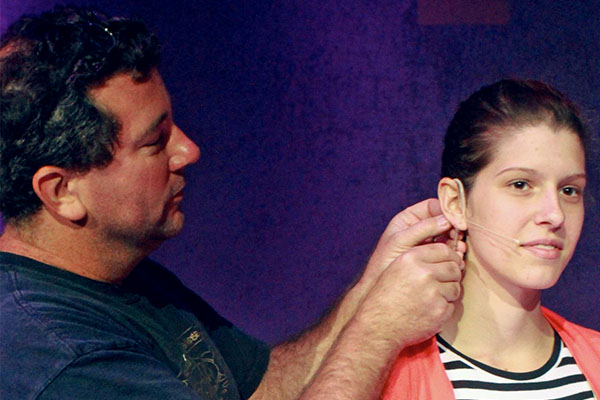 Pristine audio performance and broad polar pattern ideal for dialog acquisition
New Orleans, LA – October 2013… When the audience is inches from a drama of family relationships and emotional awakening, the critical sense of intimacy hinges on clear, natural sounding dialog. Furthermore, the microphones must not be visually distracting and they must be comfortable to keep the talent focused on the story. This is an ongoing challenge for even the most seasoned professionals and with student performers, that challenge can be even greater. For these very reasons, Delgado Community College's Theatre Department uses B3 Omnidirectional Lavalier and E6 Earset microphones from Menlo Park, CA-based Countryman Associates.
Thomas Dawson is the Technical Director at Delgado Community College's Theatre Department on the City Park Campus. Being responsible for everything from building the set for the newest show to teaching class, focusing lights, and interfacing with the various vendors that service the theatre department, Dawson oversees a myriad of details the audience frequently takes for granted. Knowing how audio quality impacts a presentation, he discussed his reasons for deploying Countryman microphones on the recent presentation of Frank Wedekind's Spring Awakening.
"Spring Awakening is a story about the intimacy of relationships, such as that of a mother and daughter or father and son," Dawson explained. "It also addresses the feeling of first love and the confusion of suicide. Written in early 1890, the play centers around Wendla, who has questions about being a woman and where babies come from, and Melchior, who provides the answers. We chose this show because the issues it addresses are every bit as relevant today as they were in the 1890's."
"With a story of this nature," Dawson continued, "the dialog is so critically important that we couldn't afford to compromise on speech intelligibility. This is precisely why we outfitted the student performers with a combination of six B3 Lavaliers and four E6 Earset mics. Student do not always project consistently, so the ability of these microphones to capture the dialog clearly and with natural sound quality is so important. These microphones enable us to get high gain levels without feedback so that each person is able to be understood by the audience."
In addition to the Countryman microphones' ability to achieve high gain before feedback, Dawson knows that durability and a comfortable, secure fit are equally important considerations when selecting lavalier or earset microphones—hence his preference for Countryman products. "The theatre department likes the Countryman product for a number of reasons," he said. "Every night, these mics stand up to the rigors of musical theatre and deliver consistent audio performance. I've found the Countryman mics to be really rugged. They hold up remarkably well—even through rapid wardrobe changes."
"Because we are a junior college, most of our students have little to no sound experience," he continued. "With the Countryman microphones, we can show them once or twice how to mic someone up and not have to worry about it beyond that. The E6 mics are super quick and easy to install. Hook the mic over the ear, perhaps apply a little piece of tape to secure the fit, and walk away confident the mic will remain firmly in place for the duration of the show."
The ability of the Countryman microphones to be visually discreet is yet another Countryman attribute that Dawson finds compelling, "In Spring Awakening, the audience sat two feet from the stage and, at times, the actors moved through the audience. Because of the small diameter cable and the discreet nature of these microphones, they don't distract the audience—enabling them to remain focused on the activity onstage and stay immersed in the show."
Occasionally, questions arise and, here too, Dawson is impressed with Countryman's support services. "Every time I call Countryman," he says, "a person answers the phone and I never have to wait with tech support. In my line of work, where deadlines are everything, that means a lot."
Before turning his focus to the student activities, Dawson offered these parting thoughts, "Having used Countryman products for over 10 years, I have never had one fail during a show, he reports. "Every year, we get a couple more microphones so we have a wider variety to use. Spring Awakening was really well received; the crowds loved it, the cast enjoyed doing the show, and I was pleased with the show's production values. And Countryman was an integral part of our success."
To learn more about Delgado Community College, visit their website at www.dcc.edu.