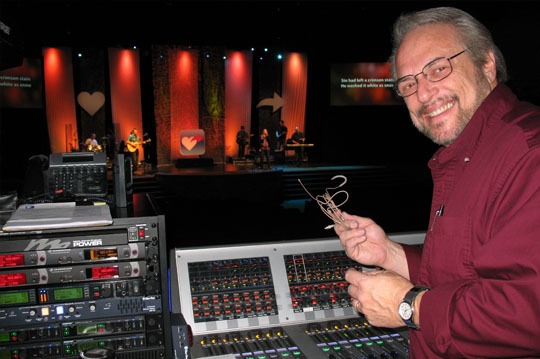 E6 Omni Earset Mic's performance and fit are ideal for live worship services and beyond

Los Gatos, CA — March, 2012 … With an internationally-renowned pastor whose local sermons air on national and international radio and TV broadcasts, Venture Christian Church consistently delivers superior audio and video to the congregation. The audio equipment in particular must provide natural and intelligible live sound reinforcement with exceptionally high signal quality and vocal clarity for subsequent broadcast. To this end, Venture relies on the robust performance attributes of the Countryman E6 Omni Earset Microphone from Menlo Park, CA-based Countryman Associates.
Jeffrey Cherin is the Pastor of Worship and Production at Venture. With an extensive background in both audio and video production for the broadcast market, Cherin is ideally suited to oversee all aspects of audio production at the church. He discussed the church's services and related factors that led to the selection of the Countryman E6.
"We have two sanctuaries on campus," Cherin explained, "and each week, we have three types of services. In our larger venue, we hold our Contemporary service, which includes a praise band and a few vocalists. Our Classic service serves the more traditional and older crowd and a considerably edgier program that we refer to as our Amplified venue serves a more youthful congregation. For each service, we typically use E6 mics outfitted on the lead pastor as well as a second person who serves as the host."
"Audio quality is critical because these sermons serve as the basis of Senior Pastor Chip Ingram's Living on the Edge radio program, which is currently on over 900 radio stations and several international TV networks," Cherin continued. "For this reason, the best possible broadcast quality audio is imperative. We've compared the E6 with numerous other earset microphones and it surpasses them all in every aspect. For example, when you edit for radio, you occasionally have to insert a word or two and this is where the E6 shines. The mic's rejection of background noise makes the process of matching the inserted audio painless. Mated with our Sennheiser 2000 Series wireless systems, the combination of equipment is very impressive."
Cherin also elaborated on the E6's fit and the fact that the microphone is available in four colors, "The E6 is comfortable and provides a secure fit without being distracting, which for us, is very important, being that our pastor can get quite animated during services. The E6 stays right in place, which enables us to achieve consistent audio quality."
Customer service is another Countryman high point according to Cherin. "I've used Countryman mics for several years," he says, "and I've always found the company very responsive. Countryman Associates is a well-run operation."
In summing up his experience with Countryman and the E6 microphones, Cherin offered the following, "The E6 microphones have proven to be the right choice for us—they offer the high production quality that is required in our situation. With top notch products and first-rate service, Countryman is a tough act to beat."
To learn more about Venture Christian Church, visit them online at www.venturechristian.org.