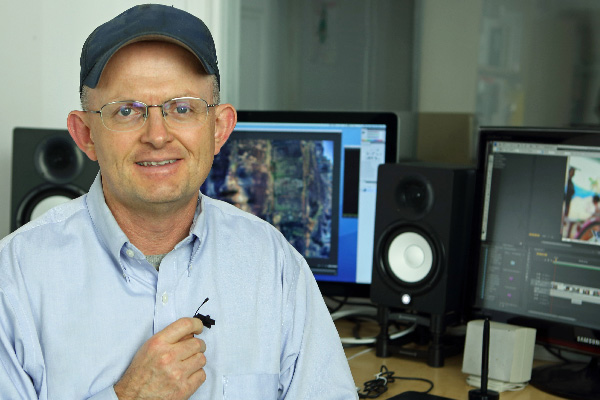 Pristine audio performance and broad polar pattern ideal for dialog acquisition
San Jose, CA…Slated to air on PBS in 2014, Riverkids: The Found Children of Cambodia tells the story of three vulnerable children who live in the slums of Phnom Penhwhere they are at risk everyday of child trafficking. The film documents how and why child trafficking occurs in Cambodia and, by extension, throughout the world. Produced by Riverkids Documentary, Inc., this film reveals the true nature of child trafficking: a con-game played by people who profit from the exploitation of children. All films–but particularly documentaries–need clear, natural audio with a high level of speech intelligibility, which is why B6 Omnidirectional Lavalier microphones from Menlo Park, CA-based Countryman Associates were the choice to bring this important story to life.
Filmmaker Randy Shattuck is the producer and director for Riverkids Documentary, Inc. Armed with the mission, "We will give voice to the voiceless," Shattuck reports that Riverkids: The Found Children of Cambodia starts with interviews of leading authorities on the subject of child trafficking and then delves into the underbelly of Cambodian life to bring this tragic situation into focus.He discussed the nature of the project and his use of the Countryman microphones.
"For this film," Shattuck explained, "we operated using a 24-bit / 96 kHz sample rate for our audio. As a great portion of our narrative audio would ultimately sit in the center channel of the 5.1 surround sound mix, the audio quality of that dialog was extremely important. With much of the film's audio coming from high end condenser mics combined with studio-grade processing, we wanted the field audio quality to be every bit on par. So when the question arose about what mic to use for our field recording, such as the interviews, the only acceptable answer was the Countryman B6."
"We first used the B6 in our commercial and industrial productions where we had to have impeccable audio quality," Shattuck continued. "Based upon our experience with those projects, I knew the B6 would be a great choice for our interviews. We used the B6 to capture extensive interviews with Pulitzer Prize winning author and Stanford University faculty member Joel Brinkley, author of Cambodia's Curse: The Modern History of a Troubled Land. Similarly, we used our B6 mics with Dale Edmonds, founder of Riverkids, whose mission is to prevent the sale and exploitation of childrenin Phnom Penh, and also with with Executive Director Sophon Phy. Further, we used the B6 for our interview with Chanrithy Him, author of When Broken Glass Floats, the story of how she survived the Khmer Rouge."
Shattuck's experience with the Countryman B6 dates back a good four years and spans hundreds of projects. He discussed the B6 attributes that made it such a well-suited audio tool for this project. "The B6 sounds terrific," he says. "This mic has exceptional frequency response, enabling audio to sound clear and natural. Because of its broad, omnidirectional polar pattern, the mic delivers very high quality audio—even when non-professional speakers turn their heads during interviews. We never encounter that all-too-common roll-off of signal that can easily occur with lesser microphones and, as a result, speech intelligibility and the quality of that speech is exceptional. There's a certain 'sweetness' about the sound from a B6 that is just ideal for a project of this nature."
When asked about his experience with Countryman's customer and technical support services, Shattuck went straight to the subject of build quality. "In all honesty, I don't believe I've ever had occasion to contact the company for support. All three of my Countryman B6 mics have been as reliable as one could possibly hope for. I've never had a single issue with them."
Before re-directing his attention back to the film, which is currently in post production and scheduled for completion by year's end, Shattuck offered these parting thoughts, "I love my Countryman mics. They're beautiful. My B6 mics produce exceptional sound quality, they're easy to work with, and they're incredibly reliable. They are my 'go to' mics for any close miking situation. When I work on a project and use my B6's, I know they're going to work and that I can trust them to deliver exactly what I'm looking to capture."
For additional information about Riverkids: The Found Children of Cambodia, contact Randy Shattuck at [email protected]