Countryman Associates Helps First Baptist Church Snellville Deliver the Message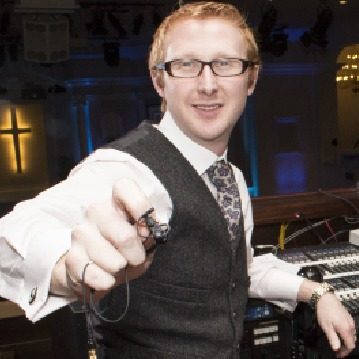 B2D Directional Lavalier Microphone yields big results

Snellville, GA – November 2012… Located roughly 23 miles east of Atlanta, First Baptist Church Snellville is a Southern Baptist Church on the go. In their sanctuary that seats approximately 1,500 people, the two weekly Sunday services attract an average of 900-1,000 worshippers each. Under music minister Dr. Wayne Grothman's direction, the dynamic services feature an abundance of music: a 130-voice choir, a 40-piece orchestra, and a vocal praise team. With this electric atmosphere, Pastor Steve Foster needs a microphone that delivers solid reinforcement without weighing him down—this is why he uses the world's smallest directional lavalier microphone, the B2D Directional Lavalier from Menlo Park, CA-based Countryman Associates.
Andy Terrell serves as First Baptist Church Snellville's Media Director. With a tenure that dates back eight years, Terrell started at the church as the house audio engineer. Prior to that, he mixed for several Atlanta-area Christian bands and also worked as an intern at CNN, part of the Turner Broadcasting organization. With a track record like this, Terrell knows what it takes to ensure a high level of speech intelligibility and suitable gain in order for the sound reinforcement system to be effective: that's why he outfits Pastor Foster with the B2D.
"About two years ago," Terrell explained, "the church extended the podium position forward so that it is now located almost directly underneath the main PA wash. The B2D's ability to reject the sound from the house sound system is nothing short of amazing. I've tried several other mics from various manufacturers and none of them had the performance capabilities of the B2D. Because of those overhead loudspeakers, I either had to EQ the signal to the point where speech intelligibility suffered or deal with feedback and low signal level. In this regard, the Countryman B2D is exceptional."
Having the PA directly above the presenter on stage can create feedback issues for omnidirectional lavalier users—however, some pastors still want to use a lapel-worn microphone. Unfortunately, many "hypercardioid" lavalier compromise sonic clarity and fullness, and suffer from poor polar pattern characteristics at low and high frequencies. The B2D offers natural and full sound, and excellent isolation across a wide band of frequencies, delivering an extra 6-10 dB of headroom compared to an omnidirectional lavalier. This combination of sound quality and isolation make the tiny microphone so valuable to Terrell.
"This mic also has a very tight polar pattern," he continued, "and, as a result, it rejects a lot of the room ambience. This aspect of the B2D makes it much easier to gain the level we need. The mic's sound is so natural and clear, we use almost no EQ on the mic at all—just a small amount of hi-pass filter to eliminate any chance of low frequency pops, but that's it. When you consider that the house loudspeakers are almost directly over the Pastor's head, I am positively thrilled with the audio quality and level this mic provides."
Terrell reports the Countryman B2D is positioned about 1 – 1.5-inches beneath Pastor Foster's tie knot and the mic is mated with a Sennheiser ew 300 G3 Series wireless microphone system. "The Countryman mic and the Sennheiser wireless setup make a terrific pair," says Terrell. "That tiny microphone delivers bigger, clearer sound than any mic I've ever encountered. The speech intelligibility is terrific, so the congregation hears every word clearly."
When queried about his experience with Countryman's customer and technical support services, Terrell was equally enthusiastic. "Everyone I've spoken with at Countryman has been a pleasure to deal with," he said. "Of the few times I've called, I've received courteous, responsive assistance. Combined with a great warranty, this is a company that really stands firmly behind its products."
Before re-directing his focus to the business of the day, Terrell offered these parting comments, "We've had our two B2D's for about a year and a half at this point and I couldn't be happier with their performance. It's surprising just how big and natural a sound that little microphone delivers. The B2D is the one thing I never have to worry about on Sunday mornings. It just works!"
To learn more about First Baptist Church Snellville, visit them online at www.fbcsnellville.com.