Countryman Microphone Proves Central To Documenting "1000k To Tokyo"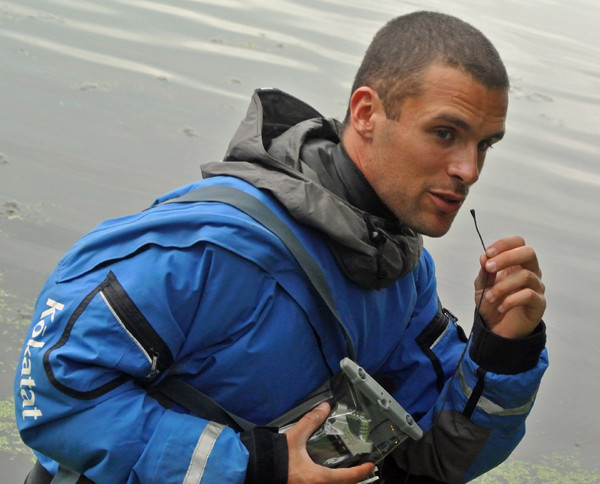 Tokyo, Japan – July 2015… Since its beginnings as a community-based environmental action group in Japan, Life Recycled and its members have worked tirelessly to bring awareness to the subject of coastal pollution and combat the problems it creates. As the founding member of Life Recycled, an effort dedicated to harnessing international support to address this issue throughout East Asia, Michael Reid—the group's founder and an avid expedition kayaker—is documenting his 1000k / 621 mile kayaking expedition up the coast of Japan to raise awareness for the cause. Aside from the obvious challenges of kayaking that great a distance, documenting the trip in such close proximity to saltwater is rough on the electronics. To ensure he captures every comment for this documentary, Reid relies on the proven performance of a B3 Omnidirectional Lavalier microphone from Menlo Park, CA-based Countryman Associates.
After literally destroying a variety of products he attempted to use for audio capture purposes, Reid found the solution with the Countryman B3 Lavalier. His particular microphone is outfitted with Countryman's flat frequency response capsule and the microphone itself is mated to a Zoom H4n digital field recorder using a custom made XLR female to male 90-degree elbow, which enables everything to fit nicely into the tight confines of an Aquapac waterproof case. Reid described his use of the B3 microphone and its positioning.
"The Countryman B3 has proven to be a real workhorse in regards to the audio requirements of the expedition," Reid says. "It was used to capture everything from ambient ocean/paddling sounds to the audio for expedition update videos. The B3 was also extensively tested in kayak wet exits and rolls, which included fully submerging the mic and, upon emerging, checking to ensure audio quality. The B3 was attached to the top of my PFD (personal flotation device) just above the zipper—about three inches below my chin. When I was doing wet exits, the mic's position was placed upside down so it could clear any water which happened to be on the top of the B3 when I emerged from the water."
When asked about those features of the B3 lavalier that made it so well suited for this type of project, Reid offered the following thoughts, "The B3 excels in both audio quality and speech intelligibility, which is critically important for the viewer in order to understand what's being said. I was really impressed by how authentic the sound was. This was especially evident when I was doing rolls with the B3 attached to my PFD. Even the water passing over the mic as I'm completing the roll had its own authentic sound—and as soon as I resurfaced, the B3 immediately picked up my commentary."
"Equally important for me is the microphone's build quality," Reid continued, "which is a must for the harsh expedition environment. After experimenting and experiencing equipment failure with a number of other audio capture systems due to the demanding salt water environment, the Countryman B3 is literally being 'the only tool for the job' as far as I'm concerned."
Reid's experience with equipment damage from saltwater corrosion was extremely frustrating and costly. After using online search terms such as "waterproof mics," he discovered Countryman Associates microphones, at which point he contacted the company. He described his experience with Countryman's customer and technical support services. "All of the staff I had the pleasure for speaking with, especially Ms. Rosa Pimentel, were extremely helpful," Reid says. "I still remember my first call, which basically consisted of me throwing a barrage of questions about the B3 and its durability at Rosa. She answered each question with a great deal of detail. All of my follow up calls were equally pleasant and I can honestly say that I walked away with a lot more knowledge about lavalier microphones because of my conversations with the Countryman staff."
Reid is presently preparing for the next leg of the expedition and, refocusing on business, he offered these closing remarks, "Everything has been working out really well and having the B3 microphone in my audio toolbox has given me so much more flexibility in regards to rough weather audio/video capture. I know the results of this endeavor will be an invaluable asset to the kayak expedition community, not to mention anyone on the water who wants to capture some great audio—complete with immersion sounds. After better than 620 miles, my Countryman B3 mic has been expedition tested and approved."
To learn more about Life Recycled, visit their website at http://tsunoshimatrash.com. To learn more about the 1000K to Tokyo kayaking expedition, visit www.michaelreid.global. To better understand the challenges of Michael Reid's expedition, go to https://www.youtube.com/watch?v=lLD-MiqjxxM&feature=youtu.be.