Features
Description
The E2 Earset redefines pure sound in a virtually invisible package, and is easier to use than even a lavalier or podium microphone. Like the classic E6 Earset, the E2 rests over the ear, but has a much shorter boom, with a uni-directional element that provides nearly the isolation of an E6 Omni at the mouth, but with significantly less visibility. With an equalizing circuit built into the audio connector, the frequency response is tuned so you can experience full-bodied bass and precise highs that are indiscernible from an omni mic at the mouth.
What's Included?
E2 Earset microphone
Detachable cable.
Black and White Single Tie Cable Clips
Protective Cap (Hypercardioid)
Windscreen
Carrying Case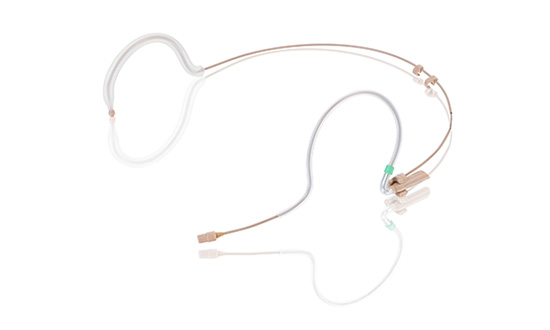 Versatile (EarClip)
The E2 works well with the Earset EarClip to create an extremely low-profile two-ear headset.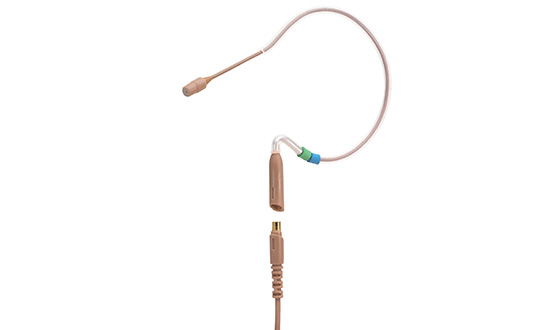 Future-Proof
The E2 water-resistant detachable connector makes cable or transmitter changes easy.
"We frequently have a lot of child actors. With many children, the boom on the E6 may be a bit long. The E2, by contrast, has a shorter boom and, as a result, works really well on their smaller faces. The audio performance is first rate on both models, so by having the added flexibility of using the E2 with its shorter boom, we can readily accommodate every performer. I find our actors love the Countryman E6 and E2 microphones. They're very comfortable wearing them, they like the way the mics fit on their faces, and they remain in place very well, so they're never distracting."
– Tracy Clayton, Technical Director – Houston Family Arts Center
Brand/Model
Brand is the manufacturer of the wireless transmitter or digital recorder which will be used with the microphone.

Model is the model number of the transmitter pack or digital recorder. Choose "Hardwired" for a phantom powered XLR3 connection.
Color
Countryman products come in a variety of colors to blend in with their surroundings:
Light beige works well for light and pink skin tones.
Tan works very well for Caucasian skin tones as well as olive complexions.
Cocoa is the ideal choice for very light brown to chocolate skin tones.
Choose Black is the most popular choice for hiding against clothes. Use it for deep brown skin, or on other skin tones when you want the mic to be visible.
When in doubt about a skin tone match, choose the darker option. That's because a mic that's too light can resemble a scar or blemish, while a mic that's slightly darker than the background resembles a shadow and draws less attention. For individuals with facial hair, consider matching to the hair color rather than the skin.
Sensitivity
Making a microphone more sensitive to catch soft sounds means it will overload sooner for loud sounds. Because sound pressure levels vary between individuals and applications, we provide three sensitivities for the E6:
The highest gain (W5, no colored band) is appropriate for general speaking and vocals, and is the most popular option.
The less sensitive version (W6, blue band) is reserved for extremely loud vocal applications.
Frequency Response:
20 Hz to 20 kHz
Polar Pattern:
Hypercardioid
Operating Current:
500uA
Operating Voltage:
1 to 2 Volts
Weight:
0.012 oz (0.34 g)
Sensitivity:

W5 (no band): 3.0 mV/Pascal (-50.5 dB re 1V/Pa)

W6 (blue band): 1.0 mV/Pascal (-60 dB re 1V/Pa)

Equivalent Acoustic Noise:

W5 (no band): 34 dBA

W6 (blue band): 39 dBA

Overload Sound Level:

W5 (no band): 130 dB SPL

W6 (blue band): 140 db SPL

Cable Length:

5 Feet